Designed to replace 50-400 watt HID fixtures, the 3rd generation GlasWerks LED family of outdoor pendants provides customers with reliable lighting solutions that are visually pleasing by day or night. Furthermore, the GlasWerks line offers flexibility in multiple shapes with traditional, transitional, or contemporary styling. This family provides an environmentally friendly solution for new construction or renovation of a variety of roadways, commercial complexes, campuses and other outdoor sites. Also, for decades many utilities and municipalities alike have enjoyed the rugged durability and ease of installation offered by the GlasWerks LED portfolio.
Two Visually Comfortable LED Platforms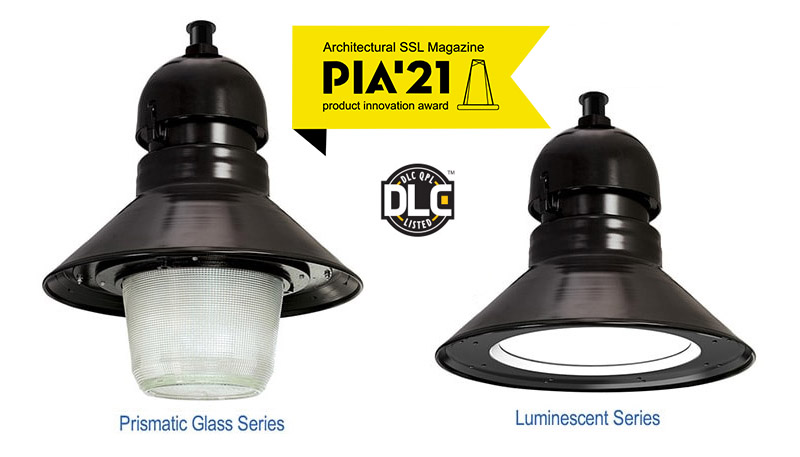 Prismatic Glass Series
The GlasWerks Prismatic Glass Series offers both sparkling beauty by day and visually comfortable illumination by night. This series is available in your choice of seven attractive form factors with up to five different glass refractor shapes.
Luminescent Series
The GlasWerks Luminescent Series combines breakthrough edge-lit LED technology with visually comfortable zero-uplight optics to help preserve our environment and the night skies. This series is available in your choice of eight attractive form factors and multiple high-performance lumen packages.
Significant Breadth of Timeless Style Choices
Bern® Series
GBLB3: Prismatic Glass
GBLF3: Luminescent
Hallbrook® Series
GSLB3: Prismatic Glass
GSLF3: Luminescent
Hallbrook® Extended Series
GELB3: Prismatic Glass
GELF3: Luminescent
Prague® Series
GPLB3: Prismatic Glass
GPLF3: Luminescent
Vienna® Series
GNLB3: Prismatic Glass
GNLF3: Luminescent
Milan® Series
GMLB3: Prismatic Glass
GMLF3: Luminescent
Lyon® Series
GYLB3: Prismatic Glass
GYLF3: Luminescent
Radial Wave® Series
GRLF3: Luminescent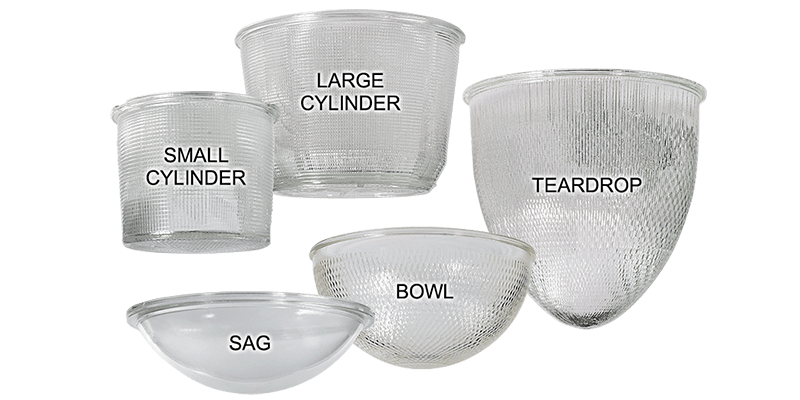 Five Prismatic Glass Optics in Multiple Distribution Patterns
The hallmark of Holophane lighting is prismatic borosilicate glass optics. Glass provides durability and permanence while offering outstanding performance, uniformity and visual comfort. The GlasWerks LED outdoor pendant lighting line is available with your choice of five different glass optic shapes to enhance your architectural statement in any roadway or area application.
Industry-Leading Engineering
50-400 watt

HID replacement solutions to reduce your carbon footprint

Multiple form factors

configurable from eight housings and five optics

Prismatic glass platform

with up to 12,000 lumens and 135 LPW

Edge-lit Luminescent platform

with up to 19,000 lumens and 135 LPW

Multiple distributions

for any roadway or area lighting application

2700K, 3000K and 4000K

CCT; 70 CRI

Arm mount or pendant mount

with quick-mount fitter option
DALI drivers

available for most configurations

Utility-friendly design

simplifies installation and maintenance

Wire guard and House-side shield

options available

Long system life

rated for L70 > 100,000 hours at 25°C

Advanced network controls

from DTL® that optimize your energy and maintenance savings

Field-adjustable lumen output

module available
Outdoor Pendant Lighting Designed for Your Needs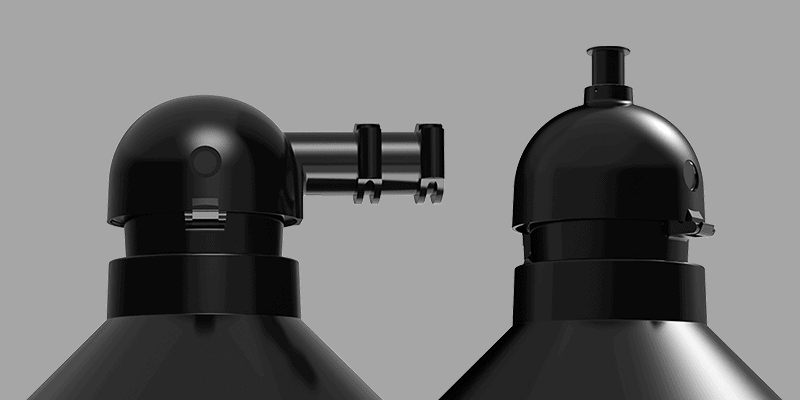 Arm or Pendant Mounting
All GlasWerks LED fixtures are available in either arm mount configuration or pendant mount configuration. Pendant mounting is available for either 1.5" NPT fitting or our install-friendly QSM quick stem fitter.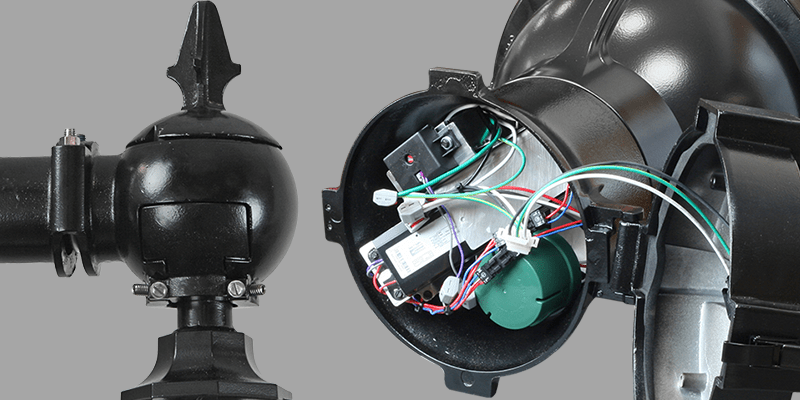 Utility-Friendly Features
GlasWerks LED provides multiple utility-friendly features to simplify installation and maintenance. Features like our new Quick-mount Fitter to tool-less entry and pre-wired terminal block all make maintenance simpler and faster.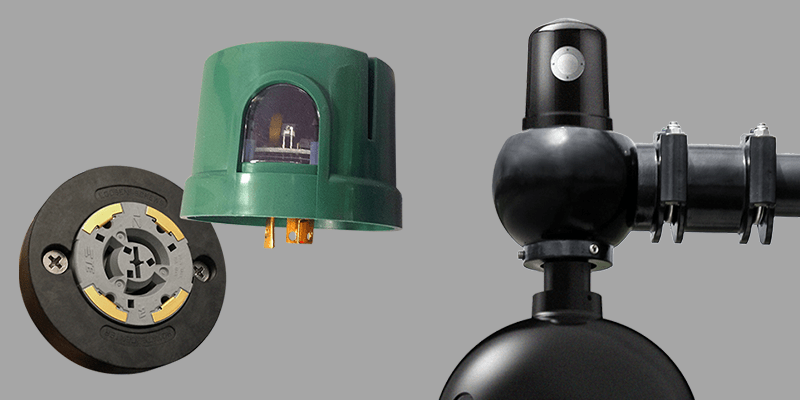 Advanced Controls
GlasWerks LED is available with a variety of control options ranging from DTL® dusk-to-dawn products to smart network solutions. The control nodes can be configured for mounting internally our externally (on arm/fitter), depending on configuration.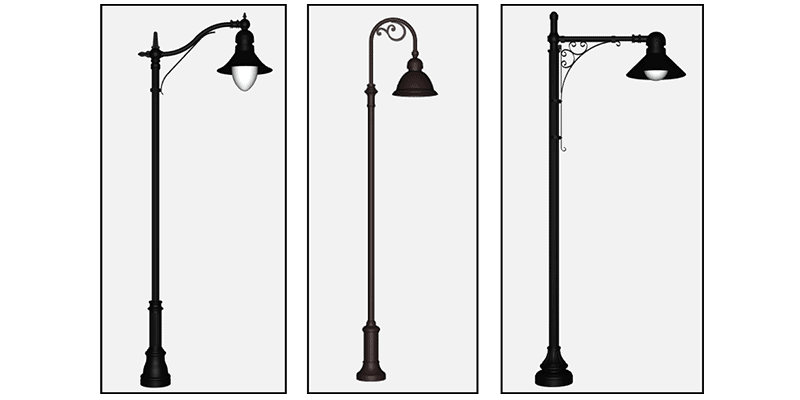 Complete the Look with Holophane Poles and Arms
Holophane offers a complete line of decorative poles to complete the look of your installation. Available in a wide variety of design styles including period, transitional or contemporary, poles from Holophane are made of durable construction in a variety of materials.