Indoor Education Solutions
The Holophane® product portfolio of LED lighting and controls provides solutions for the evolving needs of the education environment.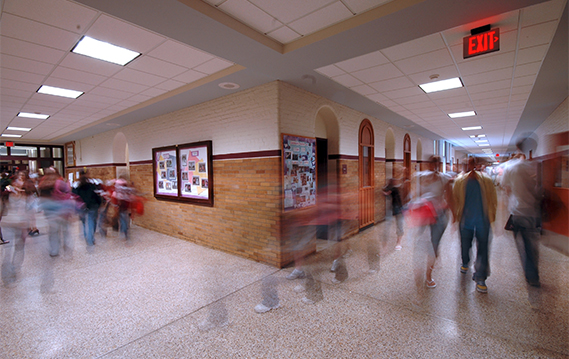 Indoor Lighting and Controls
Holophane® indoor lighting and controls solutions help you create proper lighting for education applications.
Indoor Education Applications
Gymnasium
Gym solutions combine user-friendly controls with efficient but rugged luminaires, able to withstand whatever gets thrown at them.
Natatoriums
Luminaires and controls designed and certified to operate safely in a wet and warm environment provide the ideal pool solution.
Corridors and Stairwells
Well-illuminated corridors and stairwells enhance visibility and provide a sense of comfort for individuals moving through campus buildings. Strip lights and emergency lighting ensure these paths of egress are illuminated when you need them most.
Outdoor Education Solutions
The aesthetic appearance of a university or college campus can make a lasting impression, and Holophane® decorative outdoor lighting systems can greatly impact the overall appearance of your campus.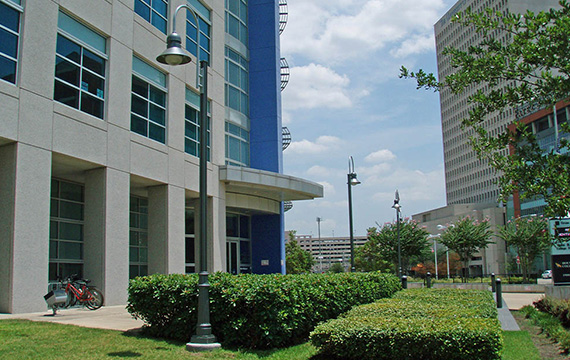 Outdoor Lighting and Controls
Our decorative outdoor post-top and pendant-mounted LED luminaires are available in roadway and pedestrian scale to provide an energy-efficient yet rich, layered design for your campus lighting project.
Outdoor Education Applications
Campus Roadways
The Holophane brand offers a deep portfolio of roadway lighting solutions to enhance your site with period architectural LED luminaires and poles that give each campus its own unique personality.
Walkways and Pathways
Holophane decorative outdoor LED lighting solutions are available in pedestrian scale and mounting heights perfectly suited to the sidewalks, walkways and running paths on your campus.
Outdoor Gathering Areas
Enhance outdoor gathering areas with our period LED architectural lighting and controls solutions that help enhance student and faculty safety with improved illumination while providing aesthetic continuity.
Parking Lot and Garage
For parking lots and parking garages, choose reliable, energy-efficient Holophane LED solutions that improve illumination to help enhance safety and visual comfort for drivers and pedestrians.
Building Exteriors
We offer a variety of LED solutions — ranging from wall-mounted luminaires to floodlighting choices for façade or security applications — to improve the exterior lighting of campus buildings.
Outdoor Featured Products